Industry leading event opens discussions on key subjects working outside of traditional comfort zones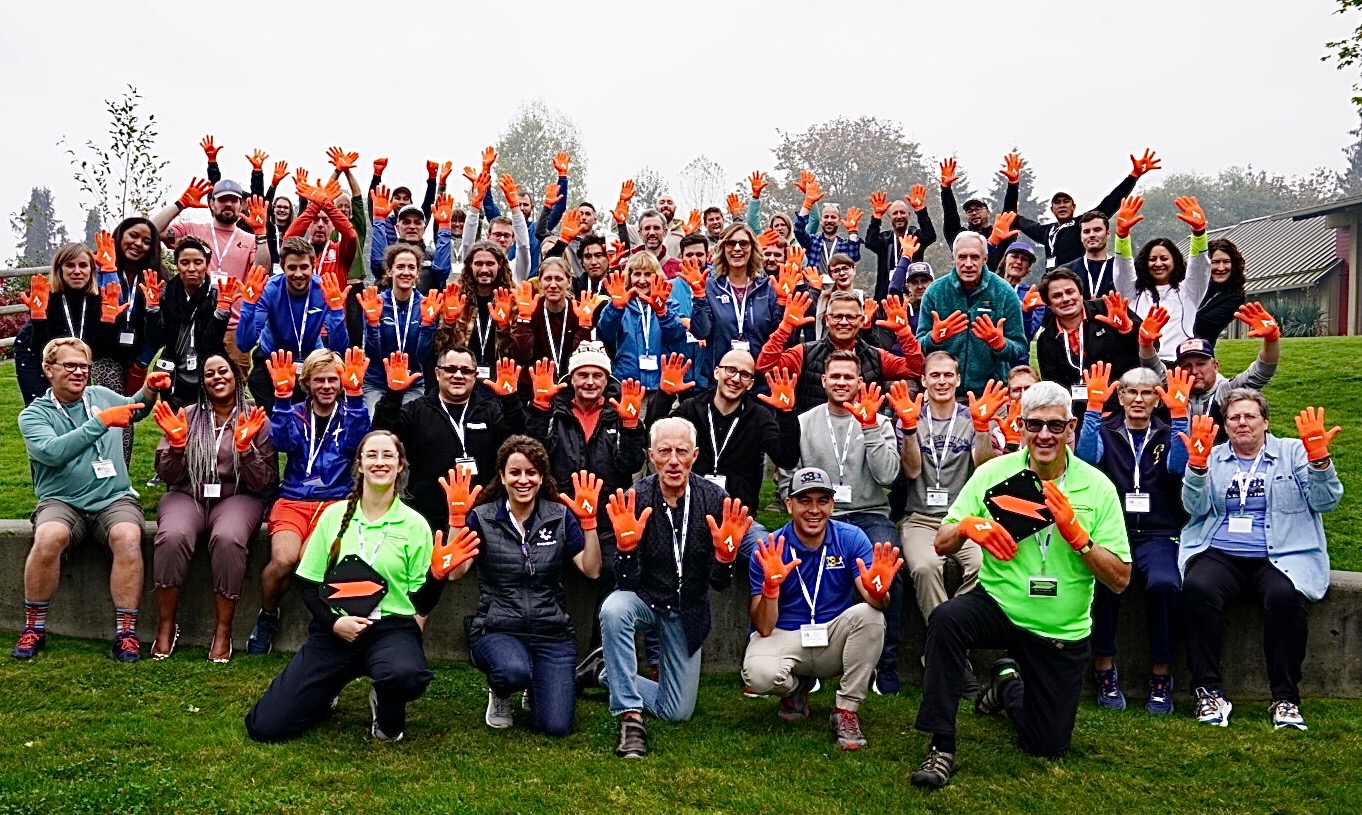 The tenth annual US Trail Running Conference, presented by Orbiter, took place October 19-22, in Mukilteo, Washington. The industry leading event offered presentations and panel discussions, morning trail runs and vendor displays that educated and inspired an engaged audience of trail running aficionados.
The event attracted more than 120 race directors, speakers, sponsors, exhibitors and trail runners. The Conference was held as an in person only event for the first time since 2019. Sixteen states were represented, as well Canada, France and Kenya. The Conference was held in partnership with the Snohomish County Sports Commission and the American Trail Running Association.
Each day of the Conference had a specific focus. Wednesday, October 19, was centered on Business and Community, with a keynote delivered by motivational speaker, running and life-coach, and ex-Marine, Morgon Latimore. This was followed by a session on how to grow your race, in terms of runners and reputation, and featured Craig Thornley (WSER 100), Steve Aderholt (Cocodona 250), and Susan Kendrick (UltraSignup & ATRA). After lunch the schedule featured two business coaching sessions led by Paul Jurasin from CalPoly Digital Transformation Hub; the first session identified business challenges in the sport and creating strategies, the second on actions for business impacts, and turning strategy into actions. Content for these sessions was based on responses to a survey conducted before the Conference where race directors were asked to share their top three business challenges over the last two years.
The next session focused on creative innovations of real life examples of thinking outside of the box in the sport to generate revenue. This featured Dakota Jones (Footprints Running Camp), Bart Davis (Terrain Scouts), Amy Ben-Horin (Wander Project), and Abram Dickerson (Aspire Adventure Running). The next presentation was loaded with helpful information on buying and selling races which was delivered by Porter Bratten from Evergreen Trail Runs and Orca Running.
The final session of the first day was the Darn Tough Big Pitch session, where three finalists presented their pitches to determine the Darn Tough, Champions of the Trail Running Community. Darn Tough Socks, represented by Product and Retail Marketing Manager, Jake Largess, awarded $5,000 to Lorrie Mittmann of Peninsula Adventure Sports as the "Trail Running Community Champion." In second place, Michele Hartwig from Ornery Mule Racing, was awarded $1,000, and in third place Ashley Gora Owens, of Big Sur Land Trust's Race For Open Space, earned a sock partnership.
The content for Thursday, October 20, was focused on Diversity, Equity and Inclusion. The day started with a conversation on how to combat sexual harassment and violence on the trails by building a building a culture of respect in the sport, delivered by Jody Sanborn (WCADVSA) and professional athlete Hillary Allen. Next up, a session on equity and allyship for female and female identifying athletes in the sport, presented by Strava, that featured Zoë Rom (TrailRunner Magazine), Jessica Lyons (Brooks Running), Paulette Odenthal (Run the Ritter & RRCA MN State Rep.) & Joe McConaughy (Brooks athlete).
A final session before a lunch break featured Diversity and focused on BIPOC.  The panelists included Jiquanda Nelson (Black Girls Run! Seattle), Shannon Woods (Brooks Running & RIDC), Maria Solis (Latinos Run & Latinas Run), and Wil White (Trail Ambassador for Black Men Run).
After lunch, a presentation from Nathan Nicholas of Nicholas Hill Group featured content on liability and cancellation insurance for events. Next up was a panel focused on diversity featuring youth and elder runners, highlighting Sebastian Salsbury (youth runner), Doug Beyerlein (Elder local runner), and professional athlete Tayte Pollmann. The final session of the day featured Diversity focused on LGBTQIA runners in the sport, and included Jake Federoski (Non-binary running), Mikah Meyer (Brooks influencer), SJ (Non-binary athlete), and was moderated by WSER 100 Race Director, Craig Thornley.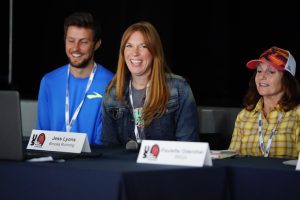 After a break, Greg Stewart, owner of Presenting Sponsor, Orbiter, shared how the technology they produce can help race directors with timing challenges at events, and also how important the American Trail Running Association is to the growth and development of the sport.
Rounding out the day was an incredible show from Brooks influencer athlete, Mikah Meyer. Mikah shared his life story in an incredibly moving and entertaining portrayal, leaving everyone inspired with the message that each of us has the power to be extraordinary. Mikah finished off with a hugely powerful rendition of Wade in the Water, an African American spiritual jubilee song.
Friday's content was centered on Climate and Sustainability. The first panel session was on moving the sport to carbon neutral or better, and was presented by Native. Panelists included Claire Lafave (Native), Porter Bratten (Evergreen Trail Runs & Orca Running), Aimee Kohler (The Running Kind), and Conference Event Director, Terry Chiplin.
The second panel session featured information on individual actions to help our climate, and included Zoë Rom (TrailRunner Magazine), François Appéré (Runners for Public Lands), James Boyce (Environmental Economist), and was moderated by Peter Maksimow (ATRA).
Prior to lunch, a session was presented by GO Sleeves, focused on Diversity – Born to Adapt, and featured Zachary Friedley (Mendocino Movement), Dani Avarich (US Paralympic Athlete), Kyle Koon (US Paratriathlete), and was moderated by GO Sleeves Co-founder Darren Lanacaster.
After lunch the first panel session was focused on innovative sustainability initiatives, and included Steve Aderholt (One Step Events), Bruce Rayner (Athletes for a Fit Planet), and was moderated by Terry Chiplin.
Next on the schedule was a presentation by members of the Trail Running Film Festival, and featured Mathias Eichler, Nick Danielson and Trent Banks, and included content on a revamped offering from the organization in 2023.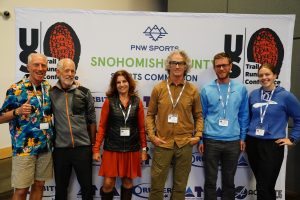 The final session of the last day was another "Big Pitch" session, where three finalists presented their pitches to decide the Brooks Climate Champions of the Trail Running Community. Top prize of $5,000 was awarded to Scott Sowle of Mountain Running Races. In second place, Paulette Odenthal from Run the Ritter, was awarded $2,000, and in third place Peter Downing of Suffer Better, earned $1,000.
The conference concluded with closing statements and farewells from Event Director Terry Chiplin who thanked everyone for their support and participation, and left everyone with news that next year's US Trail running Conference would be returning to Mukilteo, WA, October 18-20, 2023. Registration for Race Directors, Event Organizers, Sponsors, Exhibitors and Trail Runners will open on January 1, 2023 – see more details on registration options at this link. Visit the US Trail Running Conference website for further information.
More info:
Contact Event Director, Terry Chiplin for further information, terry@ustrailrunningconference.com, or +44 7474 648250
#TrailConference #trailrunning #orbiter #snocosports #snohomishcounty #PlayPNWSports #mukilteo #activeataltitude #atra #webinarseries
Latest news