The US Trail Running Conference is excited to announce a new webinar series starting in January 2021.
These webinars have been specifically created for race directors, provided by the US Trail running Conference (USTRC) and are presented by UltraSignup
The series is in partnership with the American Trail Running Association (ATRA),

and Trail Runner Magazine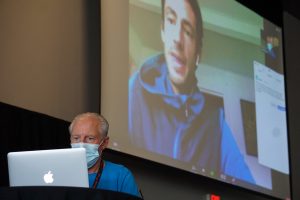 Each webinar covers a specific subject that our survey has revealed are critical to help Race Directors produce viable, successful, sustainable, trail races. Each webinar will provide a toolkit document after the webinar for Race Directors that includes key deliverables that can be implemented to effect positive outcomes.
Each of the webinar series will be available as a recording after the live session – each registrant will receive a link for the recording for each of the webinars that they have registered for.
Here are the session details – note that session dates may be subject to change:
Session 1 – The future of safe trail races during COVID – January 21, 2021 2.00 pm – 3.00 pm MST

Tracy Hoeg – MD, PhD. Sports Medicine physician, PhD in Epidemiology. Associate Researcher at UC Davis
Andy Pasternack – WSER medical team, MD, MPH
Greg Lanctot – Pacific Coast Trail Runs



Session 2 – Diversity & inclusion – February 25, 2021 11.00 am – 12.00 noon MST

Sponsored by Salomon and the Running Industry Diversity Coalition (RIDC)
DEI lead trainer Mirna Valerio
Possible athletes or organizations that contribute to the dialogue on DEI

Session 3 – Growing your trail running community – March 25, 2021 11.00 am – 12.00 pm MST

Steve Schneider – Rogue Trails
Michele Hartwig – Ornery Mule Racing
Ian Golden – Red Newt Racing & Finger Lakes Running Co
Scott Gall – The Runners Flat



Session 4 – Empowering a community of climate action champions – April 22, 2021 11.00 am – 12.00 pm MST

Zoë Rom – Trail Runner Magazine Assistant Editor
Vic Thasiah – Runners for Public Lands
Paul Thompson – Cool Planet & Citizens Climate Lobby
David Callahan – UltraSignup
Terry Chiplin – US Trail Running Conference



Session 5 – Sustainable races – current best practices and future developments – May 27, 2021 11.00 am – 12.00 pm MST

Steven Aderholt
Celia Santi – GU



Session 6 – Race Courses – safety, limits, marking, clean up, permits, land partners, new initiatives – June 17, 2021 11.00 am – 12.00 pm MST

Max King
Tiffany Hoover – Parks & Recreation, City of Fayetteville
Amy Rusiecki – Vermont 100



Session 7 – COVID follow up from Session 1 – producing safe races – July 22 11.00 am to 12.00 pm MST


Session 8 – Sponsor partnerships & Finances – August 19, 2021 11.00 am – 12.00 pm MST


Session 9 – Marketing & advertising, social media – September 23. 2021 11.00 am – 12.00 pm MST

Webinar Discounts
25% discount code available for members of or referrals from organizations and groups that correspond to underrepresented categories in the sport e.g. Black Girls Run, Latinos Run, Black Men Run, Trail Sisters, OUTRUN, United in Stride, Achilles, military or veterans – these are examples, and the discount offer is not limited to these groups.
ATRA members – all ATRA members receive a 25% discount off any webinar registration options
Please contact Event Director, Terry Chiplin, at terry@ustrailrunningconference.com if you have any questions on these discount offers.
Note that discount offers cannot be combined.