Climate action, sustainability, responses to COVID, diversity and 
inclusion take center stage in Fayetteville, AR
The 8th annual US Trail Running Conference was held October 21-24, in Fayetteville, Arkansas, and provided four days of presentations, networking, vendor displays, morning trail runs, and panel discussions that inspired and educated a varied audience of both in person and virtual participants. The industry leading event attracted more than 170 race directors, speakers, sponsors, exhibitors and trail runners who joined in-person or virtually, with 36 states  — a 33% increase over 2019 –as well as Canada and France represented.  The Conference was held in 
partnership with Experience Fayetteville, and the American Trail Running Association (ATRA).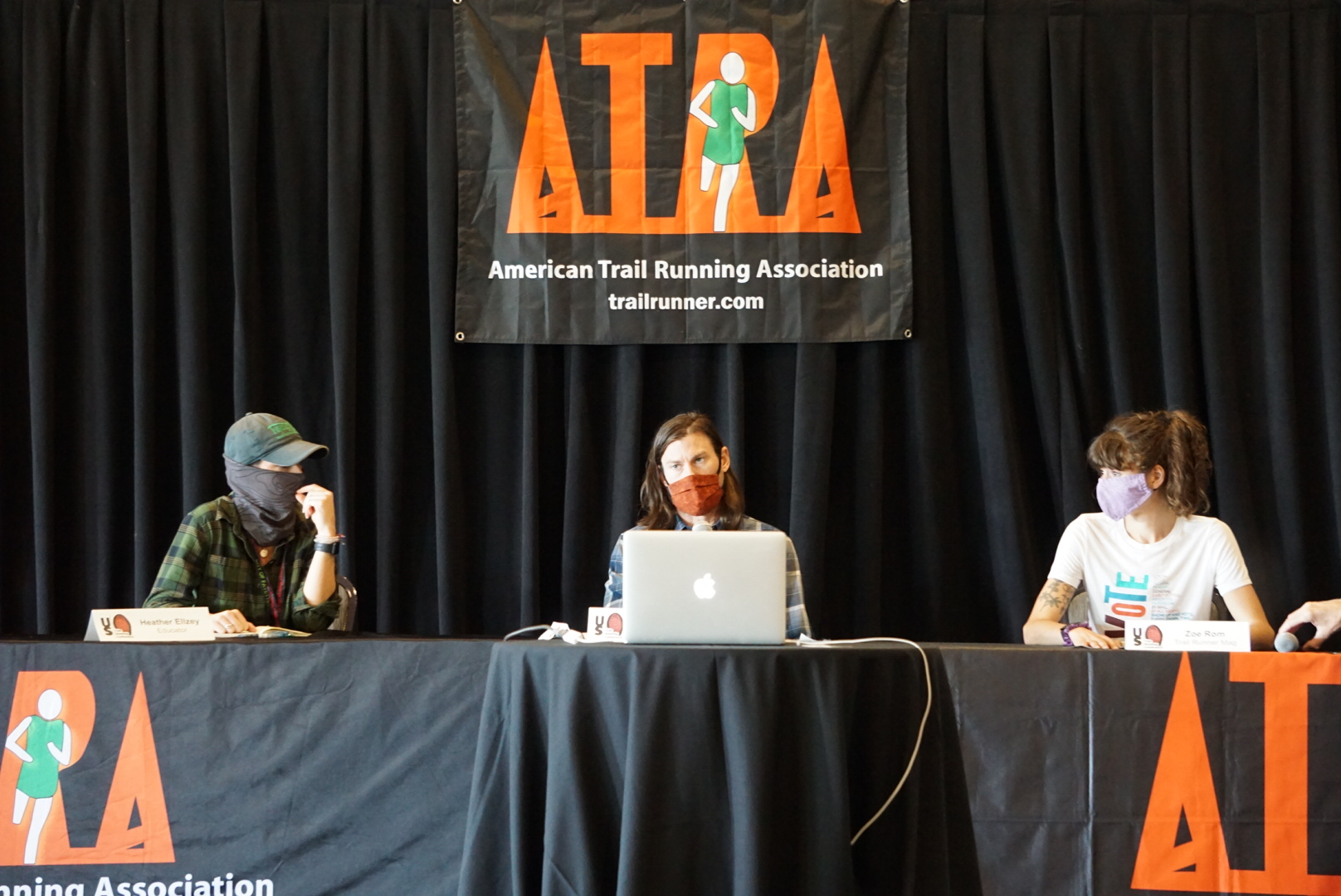 The 2020 Conference marked the first time in the eight year history of the event that speakers, participants, sponsors and exhibitors were able to join virtually. Just over 50% of the total participants were able to do so virtually using the free Conference app that also included a Webapp version for desktop and laptop users.
The first three days contained sessions focused on content for trail race directors. This year's theme for the Conference, Climate Action and Sustainability, showcased discussion panels on how to become a climate action warrior, as well as the US launch of a Charter for Outdoor Sports by top mountain and trail runner, Kilian Jornet. Jornet joined the Conference virtually from his home in Norway, and shared details on his groundbreaking charter that is based on the UNFCC Sports for Climate Action concept.
Further sessions covered responses to the COVID pandemic from contributing race directors, as well as additional content on diversity and inclusion for groups that are currently under-represented in trail running, and how races can be more welcoming to an inclusive tribe of trail runners.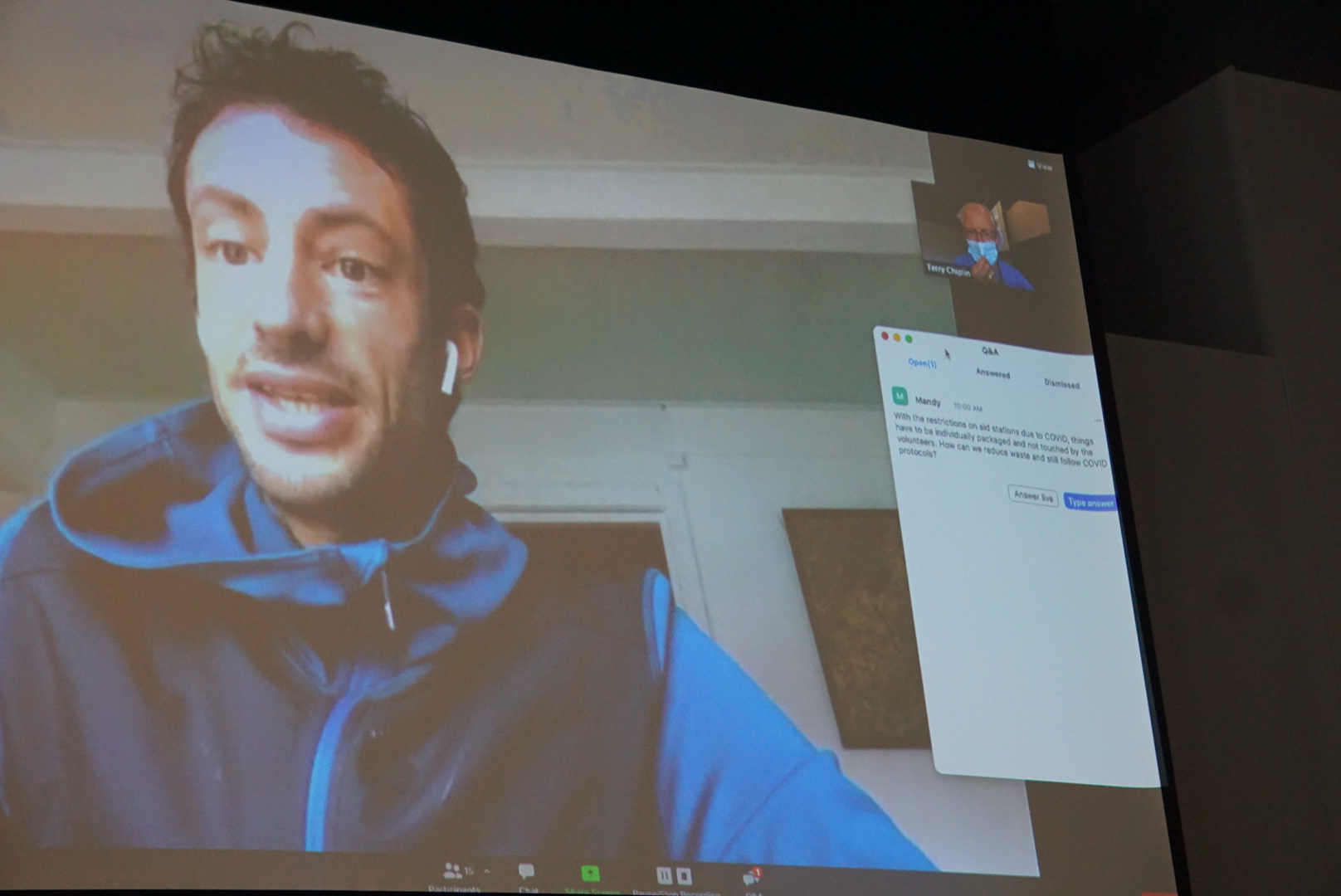 Keynote speaker was Vic Thasiah, Executive Director for Runners for Public Lands, who shared his vision of two FKT's (fastest known times), how fast our climate is changing, and how fast we need to change our responses to the situation. Thasiah shared that "no one can do everything, but everyone can do something." Thasiah also highlighted the intersection of race and climate change, and the 
disproportionate  effects on communities of color. He also brought attention to the lead that indigenous communities have taken in tackling climate change.
The presenting sponsor for the Race Director segment, Race Roster, partners with more than 4,000 events across the World. Their platform offers several unique 
features for event directors, such as fundraising campaigns, custom bibs, and event playlists. Additionally, Race Roster was recently acquired by shoe manufacturer ASICS and now utilizes the ASICS Run Keeper app. Their virtual presentation 
focused on the virtual event experience and their suite of tools that help race 
directors to deliver an effective virtual or hybrid event.
Presentations were also delivered by Bruce Rayner from Athletes for a Fit Planet who shared information on sustainability initiatives and the importance of a focus as a sport on our environmental footprint of CO2. Digital marketing tips and techniques were offered in-person by Phillip Shephard of Marketing Hero. Paul Jurasin, Director of the Digital Transformation Hub of Cal Poly, led a digital innovation hands-on 
workshop, working backwards from the customer, highlighting what race directors could do differently when faced with possible future scenarios due to COVID and 
climate change.
The final day was geared toward trail runners, and was presented by Spartan Trail, who feature epic runs along the world's most rugged trails. A fun run led by local Ozark trail runners kicked off activities. This was followed by interactive sessions with expert panels that covered how to become a climate action warrior, diversity on the trails, a women's panel, a coach's corner focused on healthy training, preserving trail access, and wrapped up with a session on fueling and hydration on the trails.
Athletes present during the Conference, both in person and virtually, included 
two-time World Mountain Running Champion  Joseph Gray and Team USA members Allie McLaughlin, Tayte Pollmann and Peter Maksimow.
US Trail Running Conference Event Director and owner of Active at Altitude, Terry Chiplin, stated: "I am very excited that we were able to deliver another high quality event for both in person and virtual participants this year. The switch to a hybrid event was a reactionary move that has opened our eyes to the incredible opportunities that a virtual Conference is able to provide, and look forward to further organic growth of this industry leading event as a result. The presentations and discussions this year will also lead to further innovative concepts that will generate education driven 
opportunities for our sport to take a lead in climate action initiatives. We are also very grateful to the community in Fayetteville that welcomed us with open arms and 
provided an incredible location for the Conference and a superb experience for our in-person participants. I look forward to continuing to work in partnership with our friends and colleagues at the American Trail Running Association to further develop these concepts, and to sustain this momentum for another successful Conference in 2021."
Added Nancy Hobbs, Executive Director of the American Trail Running Association, "With mandatory masks, social distancing, and daily temperature checks, the safety of 
in-person attendees was paramount to the success of the event. As well, offering a way for those unable to attend to be part of the action virtually was a wonderful 
addition. Planning has already begun for next year's event and we're excited to be partnering with Terry and his team to create another memorable Conference in 2021."
Organizers will announce the location and dates for the 9th annual US Trail Running Conference before the end of November.
For more information contact:
Terry Chiplin, Event Director, terry@ustrailrunningconference.com, or +1 303-304-9159
Latest news