Fayetteville is the ideal location for industry-leading event
Active at Altitude, organizers of the US Trail Running 
Conference has announced that the 2021 edition of the industry-leading Conference will return to Fayetteville, Arkansas, October 27 – 30, for the second year in a row. The 
Conference provides high quality content, networking and actionable practices to help race directors grow and develop successful trail races. Additionally, content directed at trail runners of all abilities provides tips and techniques to further enjoy and excel in the sport. Registration opens January 1, 2021, with an early registration offer for the month of January, and is held in partnership with the American Trail Running Association.
Fayetteville is nestled in the Ozarks Mountains in northwest Arkansas and combines 
excellent outdoor recreation opportunities with eclectic culture, history, arts and 
entertainment. Already known as a top mountain biking destination, Fayetteville also has a flourishing trail running community. As in the 2020 edition, the Conference 
sessions and events will take place at the Fayetteville Town Center, that has been 
consistently voted "Best Venue" in Northwest Arkansas – while the Graduate Fayetteville will be the exclusive accommodation choice for attendees. Informal trail runs will take place at nearby Mt. Sequoyah Woods Trail and Kessler Mountain Regional Park that proved very popular with conference attendees in 2020. Host partner Experience Fayetteville will be working with Conference organizers Active at Altitude to provide a must-attend event for both trail race directors and trail runners.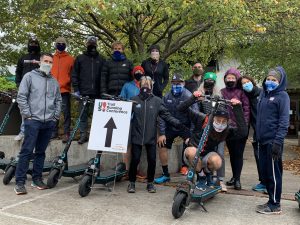 Event Director Terry Chiplin comments: "We are very excited to return to Fayetteville for the 2021 US Trail Running Conference. Experience Fayetteville, the Fayetteville Town Center, Graduate Fayetteville, Parks and Recreation Department and everyone in the city provided a superb standard of support at every level for our 2020 event. They were also able to accommodate our needs as the event pivoted to become a hybrid Conference, offering virtual access as well as in-person participation options. We look forward to capitalizing on the content that produced an outstanding 2020 Conference and bring it to an even wider audience."
Molly Rawn, Experience Fayetteville CEO adds, "The selection of Fayetteville as a host location for this national conference is a testament to the strength of our trails and to our trail running community. Furthermore, the event organizer's commitment to education around matters of diversity and combatting climate change align with our values. The US Trail Running Conference is perfectly suited for Fayetteville."
Nancy Hobbs, executive director, American Trail Running Association says, "Fayetteville exceeded my expectations in 2020, and I'm eager to return. Not only are the trails 
worthy of additional exploration, the Fayetteville Town Center provided the perfect venue and the Graduate furnished excellent accommodations and I call this a win-win combination."
Details at https://ustrailrunningconference.com/register/
For additional details contact Event Director, Terry Chiplin, 
terry@ustrailrunningconference.com, or 303-304-9159.
#TrailConference #trailrunning #expfaymyway #experiencefayetteville #fayettevillear #activeataltitude #atra

Latest news