The 4th annual US Trail Running Conference took place at the Stanley Hotel in Estes Park, CO, September 28 to October 1. A record setting 170 attendees comprised of trail race directors, trail runners, vendors, panelists, and trail running fans, were captivated by a mixture of presentations, interactive workshops, and thought-provoking sessions.
Representing 19 states, as well as Canada, the 50 attending race directors were inspired by expert panelists that represented a broad spectrum of knowledge and experience. Those experts included Craig Thornley, race director of the Western States Endurance Run, and Chris Kostman, race director of Badwater, as well as trail race directors who stage successful trail races across the US. Additional focused perspectives were provided by Keith Peters (Council for Responsible Sport), Nathan Nicholas (Nathan Hill Inc.), Dr. Frank Dumont (Estes Park Medical Center), Ann Baker Easily (Volunteers for Outdoor Colorado), and Kevin Burnette (Modcraft). Elite athletes Melody Fairchild and Peter Maksimow contributed to a panel on clean racing, sharing their views on drug testing in trail and mountain racing.
The Conference attracted athletes and Team USA members from across the US who shared their experiences, training methods, and inspired the captivated audience. Jeff Browning (Altra athlete, and Record holder for the WS100 / Hardrock double) took part in a lactate threshold test that was administered by Estes Park Medical Center, and watched by an engaged audience of trail runners. Mandy Ortiz, 2013 World Junior Mountain Running Champion, also attended, supporting Conference partner American Trail Running Association (ATRA).
Trail Race Directors representing 76,000 runners enjoyed a series of speaker panels over 2.5 days (September 28 to 30), focused on areas that trail race directors had identified as the most critical and helpful to enable them to hold successful, financially viable, and sustainable trail races. Subjects varied from social media and marketing to course design and safety. Informal networking evenings on Wednesday and Thursday were sponsored by Leslie Jordan Apparel, and Presenting Sponsor for the trail race Director section, haku sports, respectively.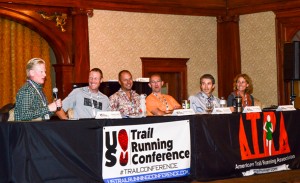 Trail Runners were treated to a series of sessions including trail shoe design, women's issues, healthy lifelong running, engaged trail running communities, and mindful running. Thanks to the generous support of Altra Running, a short movie, "The Double," was shown to the delight of the audience. The movie featured Jeff Browning's successful attempt to set a record for the Western States 100 / Hardrock 100 double, with the races just 19 days apart.
On Friday evening, the Conference featured the Colorado premiere FIFTY THE MOVIE. The movie featured New Zealand trail runner Mal Law, and his bold and courageous attempt to run 50 mountain marathons across New Zealand in 50 days, to raise money for mental health awareness in the country. Law's original goal was to raise $250,000 – to date the fund has reached over $527,000!
Event director Terry Chiplin shared this positive message after the Conference, "I am thrilled that the 2016 US Trail Running Conference exceeded expectations at every level. With increased attendance, additional expert panelists to offer a wider diversity for race directors, a focus on trail running as a healthy lifestyle option for runners of all abilities and ages, and enthusiastic and engaged vendors and sponsors, the Conference offered something for everyone participating. I am looking forward to building on the continued momentum and create an even fuller Conference for race directors, trail runners, as well as sponsors and supporters, for the fifth year of the Conference here in Estes Park in 2017."
Added Nancy Hobbs, ATRA's executive director, "Being involved since year one has provided me the opportunity to watch the Conference mature. Sessions will continue to reflect new technology and trends in the industry and keep the program relevant and fresh. This is a must-attend event for anyone involved in our sport from race directors to vendors, from elite athletes to recreational runners, from vendors to journalists."
The trail running weekend in Estes Park was rounded off by the Estes Trail Ascent trail run, a 5.8 mile trail race on Pole Hill. The race starts at 8,500 feet, and features over 1,800 feet of elevation gain. The race is presented by Estes Park Running Club, who also organize the Estes Park Marathon as well as other races in the Estes Park community, and the Tuesday evening fun runs at the Stanley Hotel.
Dates for the 2017 US Trail Running Conference will be announced soon.
Latest news