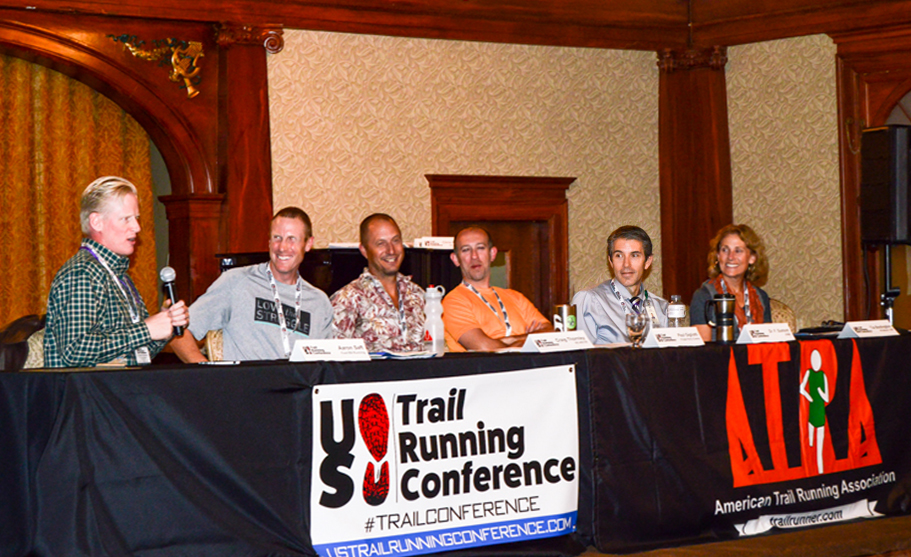 The fifth annual US Trail Running Conference takes place at the historic Stanley Hotel in Estes Park, Colorado, on October 11-14, 2017. The event is a unique and exciting celebration of trail running held in partnership with the American Trail Running Association.
Innovation is the focus for the 2017 Conference, resulting in this year's theme: Making Strides in Innovation. Creating a distinctive event personality, developing brand partnerships, exploring sustainable, zero-waste trail races will all be featured in presentations. As well, new and future technology in shoes, apparel, nutrition and hydration, accompanied by information on training and mindful running for trail runners will be shared.
Inspired by the passion and innovation brought to the Conference in previous years by trail race directors and experts from more than 20 states, the US Trail Running Conference is also making strides in innovation that will make the 2017 event a category leader. First is an intention to become a paperless event. In previous years, the program for the Conference has been mastered online and then printed as hard copy for each attendee. For the 2017 event, all Conference details will be available to attendees on the 2017 US Trail Running Conference event app, provided by new sponsor for 2017, Whova. Whova's award winning app revolutionizes event networking and management using the latest technology, and is the most loved event app. The Conference app will feature all program details, allow real time changes to notify all attendees, as well as sponsor highlights and special Conference offers, along with speaker bios. The complete package is available in a user-friendly app that is free to download and access for all attendees.
Further supporting the move to a paperless Conference, attendees who have not previously registered will be able to register in real time utilizing the mobile responsive on-site app from Race Roster. Race Roster are the Presenting Sponsor for the trail race director section of the Conference, and are the fastest growing endurance registration website in North America. The Race Roster app will enable attendee details to be logged and payments made on the day, eliminating the need for a registration process that includes paper.
Lastly, the Conference will also encourage attendees to BYOB (bring your own bag) to hold any freebies and giveaways that will be made available from sponsors and supporters for the 2017 event. Race Directors that attend the Wednesday afternoon sessions will be treated to a short instruction class on how to make an event bag from a re-cycled T-shirt. The BYOB feature was inspired by a recent initiative introduced by Vacation Races at the Yellowstone half marathon.
Event Director Terry Chiplin, adds: "I am very excited to announce these new initiatives for the 2017 US Trail Running Conference. I, like the attending race directors, have been inspired by the innovations shared by many of the contributing expert trail race directors from previous Conferences, such as Craig Thornley (WS100), Tia Bodington (Miwok 100k), Tanner Bell (Ragnar), Chris Kostman (Badwater), and Matt Gunn (Vacation Races and Ultra Adventures).  I look forward to continued development of innovative practices to keep the US Trail Running Conference at the forefront of our exciting sport."
Nancy Hobbs, Executive Director of the American Trail Running Association, comments: "The US Trail Running Conference responds to the needs and interests of our growing community. Innovation is a key factor in that growth. By focusing on this theme, the course for this year's panel discussions is set and is sure to provide attendees with valuable insights, knowledge, tips and techniques."
To learn more about the Conference, and to register, visit www.ustrailrunningconference.com.
Latest news