The US Trail Running Conference was held in San Luis Obispo, California, August 29-31, the first time in the six-year history of the event it took place outside Estes Park, CO. More than 150 race directors, industry experts, trail runners, sponsors and exhibitors spent 2.5 days dedicated to celebrating and growing the sport of trail running in the US.  Race Directors in attendance represented more than 240,000 runners, and 22 states across the US. Sponsors, exhibitors and trail runners also included attendees from Canada and England. The first 2 days were focused on trail race directors, with trail runner specific content on the final afternoon. The Conference was presented by the Hosting Sponsor, the City of San Luis Obispo, and by Presenting Sponsor Race Roster.
Activities opened on Wednesday, August 29, at the Dairy Creek Golf Club, San Luis Obispo, with a welcome from Event Director Terry Chiplin from Active at Altitude, Nancy Hobbs from the American Trail Running Association, and Samantha Pruitt from Race SLO. The Conference quickly got underway with a review of the year from the American Trail Running Association, featuring Hobbs (Executive Director), Richard Bolt (Director of Online Marketing), Peter Maksimow (Partnership & Outreach Specialist), and Tayte Pollmann (Project Associate). The ATRA team shared the significant progress made since the 2017 Conference in October last year.
Next up was keynote speaker, Dr. Frank Dumont, Estes Park Health, presented by Tour San Marcos, who shared information on why trail running is so good for our health on every level, and suggestions for ways race directors could engage their community medical centers and hospitals in trail running, and tap into a diverse tribe of wannabe runners that could exponentially grow race registrations.
The first panel of the Conference then focused on how to attract more women trail runners to the sport. Paulette Odenthal (RRCA) and Stephanie Davies (Mermaid Series) shared their experiences of successfully attracting more women into trail running and racing, including imagery, pricing, promotions and mentoring suggestions, and highlighted how this could be the next growth area for running in the US. The final panel of the day focused on logistics and race amenities, and featured Jim Harman (former owner of EX2 adventures), Greg Lanctot (Pacific Coast Trail Runs), Aaron Saft (Mr Runningpains events) and Dr. Frank Dumont (Estes Park Health). This panel shared experiences about working with volunteers, partnerships with community organizations, registration, timing & tracking systems, parking and making a kick-ass race atmosphere. The day finished with an informal networking evening with appetizers and drinks at the Golf Club, sponsored by Leslie Jordan, who also provided custom printed hoodies for each race director.
Day two, Thursday, August 30, started with a fun run on Eagle Rock Trail at El Chorro Regional Park. In the meantime race director sponsors and exhibitors were busy setting up displays at Dairy Creek Golf Club. The first session of the day was led by the Digital Transformation Hub from CalPoly, and featured an engaging and highly interactive session focused on working backwards using Amazon Web Services digital innovation hands-on workshop. Attendees split into groups and followed a workbook to create individual solutions to two key issues that race directors had identified during the registration process as being critical to producing an effective race. The two most popular subjects were safety, and marketing. This was followed by a morning drink break sponsored by Marathon Printing. Next was a round table session focused on budget and finance for race directors, led by Saft and Harman. This session also included details on creating an exit strategy for an existing race or race series.
After a luncheon sponsored by Tour San Marcos, a round table discussion centered on creating opportunities with sponsors and community organizations featuring Steven Aderholt (Ragnar Events), Paul Gigliotti (Pirate Perry Events), and Josh Heptig (County of San Luis Obispo). The final round table discussion session focused on marketing and promotion, and included Megan Janssen (Trail Runner Magazine), Rob Tranter (presenting sponsor, Race Roster), and Richard Bolt (ATRA).
The final two sessions of the Thursday schedule centered on creating opportunity. The first session focused on accessibility and featured Kyle Robidoux (United in Stride) and Ian Torrence (Flagstaff to Grand Canyon Stagecoach Line 100). Robidoux shared his experiences as a blind athlete and the encouraging developments in the sport to include blind and challenged athlete divisions in trail races. Robidoux engaged the audience as he shared details on how a sighted athlete can help guide a blind runner. Through his presentation, Robidoux opened the eyes of every attendee to the possibilities of reaching a more inclusive tribe of trail racers. Torrence explained how he has worked to remove barriers for participation in his races, and how he has attracted a more diverse participant profile as a result. The final session centered on how to grow diversity for our tribe of trail racers, and featured Luis Escobar (All we do is run), Greg Lanctot, Tayte Pollmann (ATRA Project Ambassador and Nike elite trail team), and Stephanie Davies. This panel looked at the key issues affecting diversity, race, socio-economic, age, and gender identity, and shared thoughts and experiences on innovations, leadership, dreams, and imagery.
Rob Tranter from Presenting Sponsor Race Roster followed with a presentation on the successes that Race Roster clients have experienced growing race registrations using Race Roster's innovative CRM system. Rounding out the day was an informal networking evening sponsored by Race Roster, featuring light appetizers and drinks, along with a fundraiser for ATRA, "ATRA's got balls for you," sponsored by Viking Dash Runs, held on the driving range.
Friday, August 31, kicked off with another fun run with demo shoes from Inov-8, Altra and adidas TERREX at Eagle Rock Trail. The schedule at the Dairy Creek Golf Club started with a presentation from Keith Peters (Council for Responsible Sport) that featured news new initiatives in responsible race directing, and real time updates on the progress towards Certification for the US Trail Running Conference. This was followed by a morning drinks break sponsored by Ashworth Awards. The final session for trail race directors also focused on greening your event, and featured Peters, Aderholt, and Salem Stanley (Vacation Races). The panelists shared exciting new initiatives on making races more sustainable and successes on processes they had introduced. The day for race directors concluded with a wrap up and short visualization session led by Chiplin. Every attendee at the Conference received a custom Headsweats trucker hat.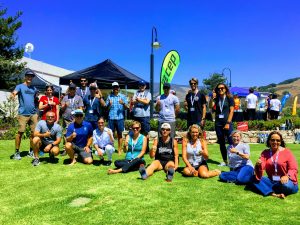 Friday afternoon featured content for trail runners, and kicked off with a run form workshop presented by Altra Running, featuring Chase Coffey. Sessions started with a panel discussion on healthy training ideas, and featured Emily Torrence (Sundog Running), Peter Maksimow (ATRA), Luke Phillips (San Luis Sports Therapy) and Ryan Joiner (Athlon Fitness). The next session focused on sports nutrition and recovery, and featured Dr. Frank Dumont, Richard Smith (Fluid Sports Nutrition), and Tayte Pollmann. Panelist shared their own experiences of varying philosophies for sports nutrition. The third panel of the day centered on safety and gear on the trails, and featured Ian Torrence, Aaron Saft, Jim Harman, and Paul Gigliotti. The final panel of the day was a women's panel, where Paulette Odenthal, Stephanie Davies, and Megan Janssen encouraged men to listen to and support women on the trails. The day finished with a closing farewell from Event Director, Terry Chiplin.
The next day, Saturday, September 1, many of the attendees took advantage of a reduced price to race in the SLO Ultra. Race Director Samantha Pruitt, Race SLO, offered distances to include the 50K RRCA CA state championship, a half marathon, a 5k, and a kids fun run. More than 650 runners raced along the trails on a glorious day in San Luis Obispo that provided an excellent finale to the preceding days.
Plans are underway for the 2019 US Trail Running Conference – sign up here to join our newsletter to be kept updated with developments. You can also friend us on Facebook and Instagram.
Latest news