Doug Thurston is the Race Director and Executive Director of the Big Sur Marathon Foundation. He attended the 2018 US Trail Running Conference in San Luis Obispo in August 2018. Doug has been in the events business for 35 years and was running road races for five years before that. He has been RD for Big Sur since 2013 and his favorite part of the race production process is seeing people at the finish line, especially first timers. We took the opportunity to talk to Doug recently about his experience at the 2018 Conference, and this interview is the result:
Firstly commiserations on having to cancel the Monterey Bay Half Marathon recently, just over 12 hours before its' scheduled start, due to smoke coming from the Camp Fire. I read that you and your team handled the situation really well at short notice, so congratulations on doing an excellent job in very difficult circumstances. What has the reaction been like from the runners that entered, and will any of your safety plans and processes change as a result going forward?
To date 70% of entrants have responded. Of those 68% have elected to defer to 2019, and 26% decided to donate a large potion of their entry to a non-profit supporting fire relief in the area.
What attracted you as an enterprise level marathon Race Director of an established series of road races to attend the 2018 US Trail Running Conference?
Firstly, the Conference was taking place so close geographically, plus Samantha Pruitt of Race SLO is a good friend as well. The fact that San Luis Obispo is surrounded by beautiful trails was also a considerable attraction. Secondly, the Big Sur Marathon Foundation have been considering adding trail racing to the race portfolio. Spartan has a Monterey Bay event and added a trail runs as part their weekend. I had previously ridden the MTB race at the SLO Ultra, and also had friends that were running some of the trail race distances on SLO Ultra weekend.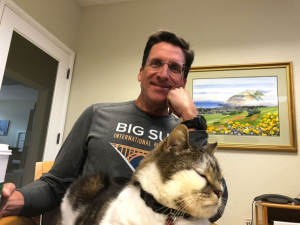 How do you see trail races fitting into the BSMF portfolio?
When we have looked at what the Foundation would like to achieve beyond our established core weekends, trail running comes up as the first option. We think there are a couple of factors that come into play here. The first is the local environment that we have, plus we believe that trail running is where future growth is going to be in the market.
Our 2 flagship weekends have a combined runner audience of 24,000, and provides 90% of the funds required for the Foundation.
We are currently looking at one venue that is a regional park that hasn't been open to the public. There could be potential for trail runs, and occasional fun runs as well. We are fortunate that we have a captive audience from our BSMF that we can use to test out ideas on, and check potential demand. Most of our runners currently come from out of the area, so we are very much a destination event model that is based on high quality. It would be interesting to see how many runners would come for a 20k trail race for example – keeping a focus on high quality content, and limit quantity so that we can then successfully scale up. We wanted to evaluate what might be reasonable to set as a target for the first year, and the Conference seemed like a good place to come and explore answers with like-minded Race Directors. We suspect that we can attract many of our existing core runners to come and experience a trail race with us as well.
What were your key take aways from the Conference this year?
There were two key take aways for me.
The first was the diversity and accessibility panels. Road racing has seen tremendous growth in the numbers of women runners, literally more in every event we put on. The panels helped me focus on adopting best practices, and also to attract different economic means. We could establish scholarships for under represented socio-economic groups, and make our events as accessible as possible to everyone.
The second was the medical information guidelines for aid stations. This was a very interesting topic that hasn't seen much coverage previously. I had an excellent discussion with Dr. Frank Dumont on his ideas and the information he shared.
Lastly, I have known Nancy Hobbs for thirty years. It was excellent to be reminded of how much of an influence she has had in trail running in the United States, and that her reach has often stretched way beyond the limits of what she is aware of.
Will you be looking to attend the 2019 US Trail Running Conference?
I certainly have it penciled in my calendar.
Thank you Doug, we hope to see you in Estes Park, October 9-12, for the 2019 US Trail Running Conference, presented by Race Roster, the fastest growing registration platform in North America.
Latest news