Panellists focus on policies, language and messaging, visibility and inclusivity to remove barriers to participation and shift historical inequities in the sport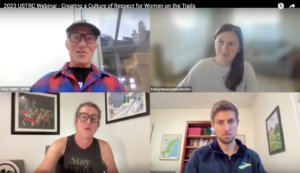 Creating a Culture of Respect for Women on the Trails, was the subject for the eighth  and final webinar in the 2023 series produced by the US Trail Running Conference presented by Marathon Printing, and was live on Thursday, September 21. The webinar series was free for all race directors and event organisers to access, and is held in partnership with the American Trail Running Association.
This webinar featured four panellists who each have a unique perspective on equity for women on the trails. The panellists were Kelsey Banaszynski, co-founder of Freestone Endurance;  Patti Flynn, coach at Endure Together and race director of Proud to Run Chicago;  Kelsey Long, an Indigenous athlete from the Navajo tribe, from the Towering House clan and co-founder of DirtBags Run Running Team; and Joe McConaughy, sponsored male elite athlete. The session was sponsored by Darn Tough Vermont®, an American manufacturer of premium, all-weather outdoor and lifestyle socks backed up by the industry's original unconditional guarantee for life.
Kelsey Banaszynski opened the session by presenting what she sees as the problems that result in women participating at lower rates than men in trail races, especially as distance increases. The first issue that Banaszynski highlighted was access and inclusion. "Starting from the get-go at early ages we see girls have much fewer opportunities to play in sports, and they are much less funded in sports than boys. We also find transportation and safety issues, and then especially for the longer distance races is time and distribution of work. Women take on way more of the unpaid household and community care to the point where it adds to something like 15 hours per week. When you think about that in terms of training and having hobbies, or doing other activities, women just have less time to do it."
She went on to share that visibility in the sport was another important factor, with a lack of positive role models, women in leadership positions, all contributing to creating institutionalized gender inequality within sport organizations. Messaging was also highlighted as another factor, including stereotyping of social norms defining women as being fragile, less capable, and passive.
Banaszynski then went on to detail the policy content that Freestone Endurance has introduced to increase access and inclusion. This covered race structure, with policies, qualifiers, logistics and prize money. Then website information and content, preview runs and camps have all helped to improve access. Finally community connectivity has also been a powerful way to increase inclusion.
For visibility, Banaszynski highlighted race day coverage, creating start line images that convey a varied illustration of women participating, and modelling race leadership. Then for messaging, making sure that general marketing and also education opportunities can be used to combat myths around women and their abilities to participate.
Next up, Patti Flynn opened her presentation by talking about the bigger issues at play. "There is a lot of push right now in certain political factions in the United States that are making it a little more difficult for folks to be themselves in public in general, and that does translate to safety on the trails. As we are all aware, endurance sport is heavily populated with CIS gender white men. There is a certain amount of safety that is being lost right now. Folks that are messaging anti trans sentiment, a lot of that is rooted in misogyny as well, the whole perception that men are just better than women, so even though trans women are women, they don't believe that, they believe that trans women are men. So someone like me is always going to win, it's all rooted in misogyny … .No matter what your position is on my existence, I do exist, and I don't win anything. I guarantee you that I did not make a transition just to try to win some things."
Flynn then went on to share information about the importance of safety on the trails for all marginalized genders,  where people in these categories also don't tend to have the money to be able to pay for participation. She also highlighted that discussions centered on athletes being pressured to look a certain way on the trails takes agency away from marginalized groups, and the need to put the onus back on those people that are not marginalized to change their behavior.
"Clubs and events need to take on responsibility and change these conversations, making explicit statements whether it's in person, social media, on your website; burying these statements and your perspectives on a DEI page or somewhere deep in your website is not enough. The majority of people are inclusive, and it is the minority that is seeking to maintain exclusive spaces. When a sport capitulates to that minority, it actually hurts. The next set of people coming to events are Gen Z, and they are generally interested in being more diverse, and identifying as queer, so having this inclusivity really readily visible and standing behind it is really important."
The next presenter was Kelsey Long. Long introduced herself by sharing her Navajo clans, letting everyone know who she is, and who her family is and where she comes from. She started by stating that she was specifically wanting to address the issue of creating a culture of respect for women on the trails from the perspective of women of color. "I am the co-founder of the Dirtbags Run Team; it is a BIPOC running team, seeking to expand our presence in the sport while honoring indigenous lands, amplifying diversity at races and beyond. We move to protect and heal our people and advocate for safety, inclusivity and respect in trail running spaces…..we have heard over and over that everyone is welcome, you just need some shoes, but that's not particularly the case because it does not address the particular traumas that runners for color have faced.
"Laws were made that kept people of color out of outdoor spaces for recreation. So now, we would like explicit invitations rather than general welcome statements, if you want us to be at your event. What that looks like is doing your research and finding local BIPOC groups and opening up a line of communication so that they know you want them at your event, and you will do your best to make sure they are safe. One of the easiest things you can do is moderating comments on social media. You can demonstrate that BIPOC women runners will be safe by showing that the trolls don't take over the comments section."
Long went on to talk about land acknowledgements at races. "It does seem performative if it's not connected with something else. What this means is reaching out to the BIPOC community and finding out how you can give back to that community. Using a resource like NativeLand.info, and finding out whose lands you are recreating on, and reaching out to those communities and seeing what you can do to help that community instead of taking away from that community."
Long closed by sharing what the Dirtbag Running Team does in terms of supporting BIPOC runners by removing barriers to participation and enabling those runners to participate wherever possible in races. These barriers include financial and safety for the BIPOC runners.
The final presenter was Joe McCoanughy. "This conversation isn't about women creating a culture of respect for women, it's important to branch out…I was on a similar panel at the US Trail Running Conference last year, and I was very nervous…I'm the guy?…I am the white CIS gender male who is here to tell you about how to make things inclusive for women, which was very uncomfortable for me. It is important for me to be a voice for white CIS male athletes in the conversation, without it we are not bringing the whole community together."
"We have a local group called Cowgill Trail Collective – we also created explicit invitations to help broaden inclusion at the club. An important thing that I realized is that you need to show up for those people that you have invited to your events. I have also coached multiple athletes in the non-binary category – for many individuals in this category their experience hasn't been good, it has largely felt like a performative gesture. If you're having a non-binary category, make sure that your event respects and honors those participants. You do have to start somewhere, and having a little bit of extra thought and care to create a safe space is really important. You see a lot of people who look like me in leadership roles in running clubs and the outdoor and running industry, it's really important to actively promote women into positions of leadership, and have broad diverse leadership groups and to also be really cognizant of that."
"As a running coach I believe it is vitally important that we increase the number of female running coaches in the sport. In a major service group for coaches that I am a part of, less than 1/3rd of all the coaches were female. A lot of coaches that have the most active social media accounts are male and very dogmatic, and that's not necessarily approachable for many people, however those are the voices that people often listen to. I run a scholarship that provides free coaching for younger trail runners.In the groups that I lead then we have had great success with making groups more inclusive, and one factor has been making groups led by women, and this has had a significant impact on how many women runners then attend those runs."
Active at Altitude, organizers of the US Trail Running Conference and the webinar series, reported more than 151 participants registered for the session, representing 36 states, as well as Arab Emirates, Austria, Chile, Canada, China, England, India, Iceland, Kenya, Mexico, North Macedonia, New Zealand, Rumania, Saudi Arabia, and Vietnam.
Plans are under way for the 2024 US Trail Running Conference Webinar Series. Details will be announced later this year.
More info:
For details on the US Trail Running Conference and the webinar series, go to https://ustrailrunningconference.com/webinar-series/
Contact Event Director, Terry Chiplin for further information, terry@ustrailrunningconference.com, or + 44 07474 648250
#TrailConference #trailrunning #snocosports #snohomishcounty #PlayPNWSports #mukilteo #activeataltitude #atra #marathonprinting #TrailRunningIsForEveryBody #darntough
Latest news