Industry experts offer ideas to improve course markings, communications, and infrastructure
The sixth webinar in a nine-webinar series produced by the US Trail Running Conference and presented by the leading trail registration platform UltraSignup, was hosted Thursday, June 17. The session subject for this latest session was: Race Courses – Course design & marking, land partners & permits, registration, limits, & new initiatives, safety & insurance. The session content was delivered by four leading race directors that represented many years of cumulative experience in producing successful trail races. Active at Altitude, organizers of the US Trail Running Conference and the webinar series, reported nearly 90 race directors and event organizers registered for the webinar, representing more than 30 states, as well as Canada, Macedonia, Portugal, and Romania. The webinar series is held in partnership with the American Trail Running Association, and Trail Runner magazine.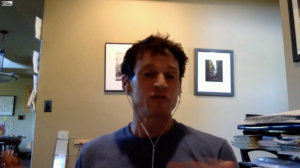 The four panelists were Max King, 2011 World Mountain Running Champion and race course designer and race director, Tiffany Hoover, Assistant Recreation Superintendent, Parks and Recreation, City of Fayetteville, Amy Rusiecki, Race Director, Vermont 100, and Mike Ortiz, Director, Vail Recreation District.
King shared three critical factors for effective course design and marking including 
accuracy, consistency and visibility, and negative marking. He urged race directors to put themselves in the runner's shoes when selecting a venue, course, and markings. He also went on to divulge his top three lessons learned as an RD, "Don't rely on volunteers (unless you have to), weather will get you every time, and it's important to have clear communication." King finished his presentation by posing a question, "Is there a need for an industry standard course marking system?"
Hoover addressed land partners and permits, namely seeking input from local trail maintenance volunteers and builders, the importance of coordinating trail work days 
before and after races, and to understand the use patterns of the venue and who else might be impacted by the events on race day. She also revealed her top 3 lessons learned as an RD, " Even with a perfectly marked course, someone will get off course. It's important to make the course experience fun with a focus on flow, and to help EMS crews be prepared if they need to assist participants anywhere on the course."
Rusiecki's focus was on registration issues and new initiatives. During her presentation she shared her ground breaking work to make all participants feel welcome at her races by creating divisions for athletes with disabilities, and her successful introduction of a trans and non-binary athlete policy supported by her registration platform.
Rusiecki shared her top three lessons learned as an RD, "The first is to expect the unexpected, secondly that communication is the key to success, and finally the importance of 
surrounding yourself with good folks you can trust."
Ortiz, as the final presenter, detailed safety concerns and insurance coverage. The 
impact of weather, participant injuries and medical conditions, crucial safety protocols such as race sweeps, mileage markers, DNF protocols, and communications were all addressed. He also discussed insurance and liability coverage, and how Vail Recreation
District arranges coverage for crucial areas and scenarios. Finally, Ortiz shared his three key lessons learned as an RD, "It is imperative to build two-way relationships with your significant partners, communicate clearly with your racers to let them know what they can expect, and to ask others if you can share their ideas and successes if you think that can benefit your participants and events."
"The keystone of any event is safety, " said Nancy Hobbs, Executive Director of American Trail Running Association, "This includes everything from selecting a venue, to staging a finish line. In this webinar, the panelists provided real-life experiences to educate new and veteran race directors with the nuances of course, permitting, and insurance requirements. The information gleaned from this webinar will surely enhance the 
successful execution of events well into the future."
Each webinar is presented by industry leaders in their respective fields, and offers 
information that can boost a race director's knowledge and afford insight into innovative practices to implement at their events. Every participant receives a best practices 
resource document after each webinar that details key actionable items, while there will be an opportunity to follow up on deliverables through an online forum, and in-person or 
remotely at the 2021 US Trail Running Conference to be held October 27-30, in 
Fayetteville, Arkansas.
The seventh webinar in the series is scheduled for July 22, at 11.00 am MDT, and is 
focused on the latest thinking and best practices in response to COVID in the trail racing scene. The expert panelists will be disclosed very soon. Race directors, event 
organizers and anyone interested in attending can register for the session as a 
stand-alone, or for the complete series at a discounted rate. The recordings of the first six webinar sessions will also be available for anyone that registers for the complete 
series.
More info:
For details on the webinar series and to register, go to https://ustrailrunningconference.com/webinar-series/.
Contact Event Director, Terry Chiplin for further information, terry@ustrailrunningconference.com, or 303-304-9159
#TrailConference #trailrunning #ultrasignup #expfaymyway #experiencefayetteville #fayettevillear #activeataltitude #atra #webinarseries #trailrunnermagazine
Latest news