Industry-leading event plans to be fully carbon negative in 2022
Active at Altitude, organizers of the annual US Trail Running Conference, 
announces that the 2021 event held in Fayetteville, AR, in October, became carbon negative following purchase of appropriate carbon offsets. Carbon offsets are a practical and effective way to address climate change and encourage the growth of climate interventions. With them, you can counteract the personal carbon emissions or carbon footprint that you or your business create, while also contributing to a more sustainable future. Carbon emissions at endurance sport events were a focus during the climate and sustainability presentations at the 2021 Conference which included statistics from 29 mass participation events that took place in North America between 2014 and 2019, and reported their greenhouse gas emissions to the Council for Responsible Sport.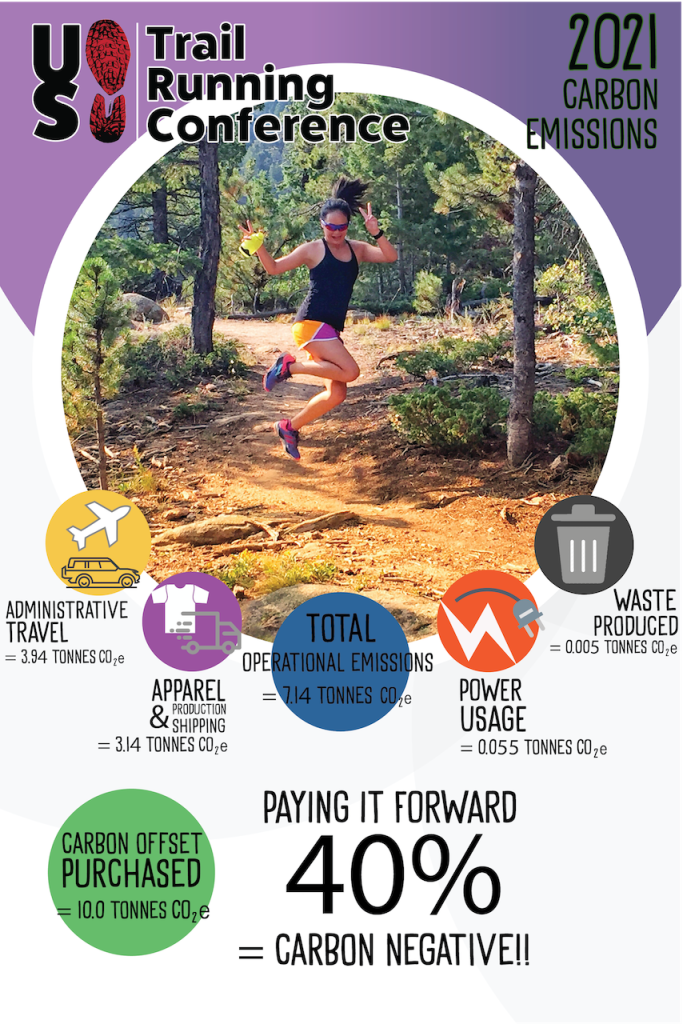 This review found that 98.5% of the carbon emissions at mass participation events came from event-related travel by participants. This data prompted organizers of the US Trail Running Conference to analyze the carbon emissions of the 2021 Conference with help from Native, a Public Benefit Corporation and certified B Corp.
Native works with organizations to develop authentic solutions to their sustainability challenges and implement both community and landscape-scale projects that reduce greenhouse gas emissions, strengthen businesses, and contribute to progress around the world. Analysis of the carbon emissions generated by the 2021 Conference was provided by online calculators as well as data estimations furnished by Native.
Analysis of carbon emissions by the 2021 Conference was split into operational emissions, and participant travel emissions. The operational emissions were 7.14 metric tonnes of CO2, consisting of administrative travel to and from the Conference, transport during the event, waste produced at the event, power usage at the host location, and event apparel production and shipping. Participant travel was also analyzed and estimated to be 12.9 metric tonnes of CO2.
A carbon offset greater than the estimated 2021 Conference operational emissions was purchased from Native by Conference organizers equivalent to 10 metric tonnes of CO2. This amount means the 2021 Conference became carbon negative operationally. Carbon offsets can support funding to local and meaningful sustainability projects that are responding to climate change, and enable organizations and businesses to pay it forward and support sustainability projects that have meaning to organizations, businesses and constituents. Specifically, the carbon offset purchased was applied to the Medford Spring Grassland Conservation project in Colorado, which is dedicated to preserving shortgrass prairie in the State.
To help achieve the goal of the 2022 US Trail Running Conference being fully carbon negative, organizers have included a portion of registration fees that will be allocated to offsetting participant travel to and from the event, and the carbon emissions this generates. The US Trail Running Conference will not profit financially from this process.
The US Trail Running Conference is an annual event that provides education, inspiration, and unique networking opportunities for trail race directors and trail runners. The 2022 edition 
takes place in Mukilteo, Washington, moving to the Pacific NorthWest for the first time in its ten year history. The Conference is held in partnership with the Snohomish County Sports Commission and the American Trail Running Association. The mission of the US Trail Running Conference is to lead, educate, connect and empower an inclusive family of trail runners, race directors and industry leaders working to share best practices with the trail running community.
Claire Lafave, a Manager of Client Strategy at Native, says "It's been a joy to work with someone as earnestly invested in climate activism as Terry. Native is pleased to have a project the running community can support that both protects open space and mitigates climate change."
Conference director Terry Chiplin adds, "I am very excited to take the first step toward moving the US Trail Running Conference to become carbon negative. We have been drawing down from the future for too long, and I am grateful to several of our Conference partners for inspiring this development that demonstrates how accessible analyzing and offsetting carbon emissions can be for event organizers. We will be sharing best practices in the near future with race directors and event organizers to inspire and empower the sport to adopt aligned policies that will move trail running to become carbon neutral or negative, and do our part to help meet IPCC goals to keep global warming below 1.5 C and halve emissions by 2030."
More info:
For details on the Conference and to register, go to https://ustrailrunningconference.com/register/
Contact Event Director, Terry Chiplin for further information, terry@ustrailrunningconference.com, or 303-304-9159
#TrailConference #trailrunning #snocosports #snohomishcounty 
#PlayPNWSports #mukilteo #activeataltitude #ATRATrailrunner #TrailRunningisforEveryBody
Latest news