Industry experts deliver practical advice and effective solutions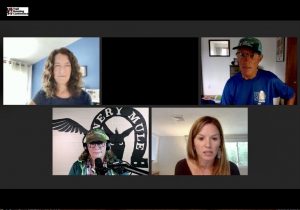 The eighth webinar in a nine-webinar series produced by the US Trail Running Conference and presented by the leading trail registration platform UltraSignup, was hosted Thursday, August 19. The session subject for this latest session was: Sponsor Partnerships and Revenue. The session content was delivered by three leading experts on sponsor partnerships. Active at Altitude, organizers of the US Trail Running Conference and the webinar series, reported nearly 85 race directors and event organizers registered for the webinar, representing more than 30 states, as well as Canada, Macedonia, Portugal, and Romania. The webinar series is held in partnership with the American Trail Running Association, and Trail Runner magazine.
The three expert panelists were Sara Berry, Director of Global Partnerships, Spartan Race, Susan Kendrick, Director of Brand Relationships, UltraSignup, and Michele Hartwig, Race Director and Founder and owner of Ornery Mule Racing.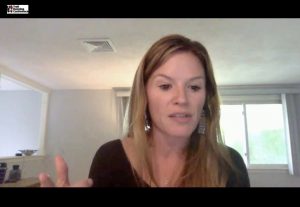 Berry shared that the starting point for any sponsor partnership is to, "Provide solution-based partnerships for our clients that are created with the clients KPI's in mind, while creating great fan experiences." She also stressed the importance of working closely with individual race directors to understand the specific products and services that can be amplified at events. "Once we identify a partner, it's important to understand the expectations of partners to ensure our relationship is maintained and we will continue to grow together." Spartan Race works with partners that can help share their mission and goals and spread information through their platforms and athletes. Spartan Trail was the sponsor for this session.
Kendrick split her presentation into four segments critical to successful sponsor partnerships. First is Who and Why, secondly Asset Inventory, thirdly Pricing, and lastly Relationship Building.
Highlights of the who and why segment were the motivation for why sponsor partnerships are an important part of race directing, where revenue generated can help you achieve something specific in an area of race organization. "It's useful to remember that people coming to your event are outdoor enthusiasts who are active, healthy people, and then think of what other kinds of companies would want to get in front of that group of people." Kendrick gave examples to illustrate her point using a paddle board company, a camping company, and a hotel. She also encouraged race directors to ensure they are connecting with the right person within the company. A highlight in the asset inventory segment was the opportunity to work with sponsors to create "a fun experience for runners throughout the race experience." Within the pricing segment Kendrick explained how she manages sponsors that are from the same market area, creating "an official sponsor position….where one sponsor is looking for increased visibility over and above the level that their competitor has." Finally, Kendrick recommended that to build a relationship with your sponsor partners, "you need to be able to ask and listen, …and that innovation for one sponsor partner helps all your sponsors."
Hartwig, as the final presenter, stressed the importance of, "Taking time to define your partnership goals with your sponsors." Doing this before you start your journey gives you the opportunity to grow and develop the partnership in a much more meaningful way as a result. She also emphasized that it is, "Important to know your value, and that both you and your sponsor partner are contributing to the relationship. Commitment is a key factor to establishing a partnership. Companies get involved with your events because they care what you are doing and what you have created and you should demonstrate that you care about theirs. This relationship will enable you to have a more positive relationship and an effective working environment. Lastly, Hartwig encouraged race directors to, "Get creative, have fun and find interesting ways to work with other great companies."
"The most difficult pieces of the race director puzzle involve sponsorships," " said Nancy Hobbs, Executive Director of American Trail Running Association. "Researching myriad brands to find the right fit takes time and patience as well as creativity. The presenters today shared their tried and true experiences to assist race directors as they manage this important aspect of this critical component in their budgets. ."
Each webinar is presented by industry leaders in their respective fields, and offers 
information that can boost a race director's knowledge and afford insight into innovative practices to implement at their events. Every participant receives a best practices 
resource document after each webinar that details key actionable items, while there will be an opportunity to follow up on deliverables through an online forum, and in-person or 
remotely at the 2021 US Trail Running Conference to be held October 27-30, in 
Fayetteville, Arkansas.
The ninth and final webinar in the series is scheduled for September 23, at 11.00 am MDT, and is 
focused on marketing, advertising and social media. Panelists will be announced soon. New and seasoned race directors, event organizers, club leaders, and others interested in attending can register for the session as a stand-alone, or for the complete series at a discounted rate. The recordings of the first eight webinar sessions will also be available for anyone that registers for the complete series.
More info:
For details on the webinar series and to register, go to https://ustrailrunningconference.com/webinar-series/
Contact Event Director, Terry Chiplin for further information, terry@ustrailrunningconference.com, or 303-304-9159
#TrailConference #trailrunning #ultrasignup #expfaymyway #experiencefayetteville #fayettevillear #activeataltitude #atra #webinarseries #trailrunnermagazine
Latest news